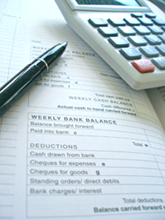 Consider us a convenient, dependable, affordable one-stop service for your accounting needs.
Our commitment is to become a trusted partner and to adjust to your needs. We do as little or as much as you want.
Every business is unique, and your needs may change over time. We have the flexibility to expand with you as your business grows.
We offer:
Bookkeeping: We'll handle your accounting and provide you with complete, timely reports and financial statements. Or, if you prefer, we can show you how to set up and keep your own books.
Taxes: Our licensed tax preparers can prepare your personal and business tax returns & quarterly estimates. Take advantage of our licensed consultant's expertise and consult with her on upcoming tax issues, strategies, and planning.
Business Advising: As trusted and knowledgeable advisors, we can help you avoid costly problems and identify profitable opportunities.  We can be that sounding board you may need on occasion.
Who We Can Help & What We Provide:
Start-ups & New Businesses
• Registering the business
• Getting a tax ID number
• Entity selection
• Payroll assistance
• Tax advice & strategies
• Business advising
Individuals
• Tax preparation
• Tax consulting & estimates
Existing Businesses
• Payroll assistance
• Full monthly ledgers
• Payable & receivables
• Financial statements & reports
• Reconciliation
• Year-end general ledger
• Tax preparation
• Bookkeeping review
• Business advising
CLIENTS WE SERVE
Artists and Authors
Architecture
Beauty / Hair
Book Store
Business coaching
Churches
Coffee shops
Computer services
Condo associations
Custom gun stocks
Dance Academy
Dentist
Design & Advertising
Footwear – retail
Financial Services
Gift shops
Healthcare
Heating & Cooling
Landscape nurseries
Language interpretation & translation
Limo service
Legal Services
Moving
Nutrition Products – retail
Promotional products
Real estate and mortgages
Restaurants
Senior placement services
Software Development
Travel
Web based businesses